Welcome to our website! Whether you are in the market to buy or sell property, you have come to the right place. We invite you to use this site to search for your next Single Family Home, Condominium, Townhouse, Land, or Commercial real estate purchase.

To locate the property of your dreams, click the Property Search button. Also, we invite you to create your own FREE account, so that you may save listings that you might be interested in.

Thank you for visiting!
Featured Agents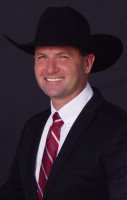 View My Listings
Realtor
I grew up in Chillicothe and have worked in Real Estate for over 10 years. My family and I moved to Oklahoma in 2009 and we just moved back to Chillicothe in January 2021. Real estate has been a big part of my life along with being a cowboy. I love meeting and talking with folks from different areas as well as the home grown bunch. I will work hard to pursue what is best for each seller and buyer whom I work with and will always strive to make the transaction as easy as possible. Real estate...